THE SECRET TO YOUR NEXT TEAM BUILDING SUCCESS? SAND CASTLES.

Forget awkward icebreakers and trust falls. For your next group team building excursion, you need to check out our epic Group Sand Castle Building Lesson. Constantly rated the #1 team building activity in all of Southern California, this unique, fun, and unforgettable group team building activity is a bucket-list, must-do for your next corporate retreat or conference. It's fun, inclusive, COVID-safe, and unlike any other group outing you'll ever experience. Read more to see why you need to book this one-of-a-kind team building experience.
Why our Group Sand Castle Building Experience is the Best
Second to None – There is No Other Team Building Experience Like it
The first reason you need to book our group sand castle building experience is simple- there is literally no other group tour or corporate team building activity like it in LA. Bikes and Hikes LA is first (and best!) in class when it comes to our unique, outdoor team building activities. Nowhere else in LA (or Southern California, for that matter!) will you find a VIP experience like this one. With the help of our world-class, award winning Sand Castle Sculpting Expert, we'll design a day at the beach for you and your team. During your exclusive sandcastle building lesson, you'll get all the tools, tips, and tricks of the trade from our expert instructor to construct the sand castle fortress of your dreams – step aside, "Selling Sunset!" Along the way, you'll compete with your teammates to build the most elite sand castle (more on that below,) grab unlimited Instagram photos, and soak up sun, sand, and surf at a top Los Angeles beach. Best yet, this activity is designed for groups to unplug, step away from their desks, and bond on the beach- it truly doesn't get any better. (And we promise no awkward ice breakers or trust falls! So 2019!)
Group Sand Castle Building is for everyone- ages 6-96
If you're worried that you don't have an architecture degree or a construction license, fear not; our sand castle sculpting experience is designed for groups, teammates, and guests of all ages and experience levels. Kids (and kids at heart!) ages 6-96 are able to participate in our group sand castle building lesson. Haven't constructed a giant sand behemoth in a minute? Left your shovels and sculpting tools behind when packing for your corporate retreat? Don't worry- we've got you covered! Our sand castle sculpting instructor will provide all of the tools and tutelage you need to refresh your sand castle sculpting skills, especially if you haven't built a sand castle in a little while…or a long while! Another incredible aspect of this epic day of team building is that guests of all levels of fitness and expertise may participate; whether you're an avid outdoorsperson, or prefer to have it made in the shade, have done 10839823987 Ironman Triathalons, or prefer to Netflix and Chill, anyone can participate in this group team building experience.
Our Sand Castle Building Experience is an excellent way to bond with your team
Forget lame happy hours and Zoom trivia nights; the group sand castle building experience from Bikes and Hikes LA is literally the best way to bond with your team. Ditch the business suits, and grab your swimsuits- we're getting down to business here! We like to foster a little healthy competition between you and your crew during this group team building outing. After your sand castle coach teaches you all of the sand castle building essentials, we'll divide you and you group into two teams- and the race is ON to build the best sand castle the beach has ever seen! You'll work together with your teammates to construct a sand castle dream palace using the skills you've honed all day; with a littttttle help and a few pointers from your coaches. At the conclusion of the contest, a panel of expert judges (the Bikes and Hikes LA A-Team and a surprise guest judge or two,) will evaluate your creation and award you points for style, build, and flair– there are prizes, but everyone's a winner at the end of the day when you book this Sand Castle Extravaganza! (And it truly beats making smalltalk in a Zoom breakout room!)
We'll roll out the red carpet for you and your crew!
EVERYONE is a VIP when you book a private event or team building experience at Bikes and Hikes LA, and our group sand castle building activity is no exception! When you book the group sand castle building lesson, our concierge team will work closely with your group to ensure a flawlessly executed group team building experience for all. We'll coordinate a date that works around your group's itinerary while you're in town, and will design the event so that it fits seamlessly into your agenda. We'll set up our sand castle lesson at a beach convenient to your group's location, and will provide literally EVERYTHING you need- expert instructor, tools, hydration, shade, and of course, a fleet of top-tier crew members ensuring a fun, thrilling, Instagrammable, and unforgettable afternoon for all. Need private transportation? A delightful catered lunch? Sunscreen? (Safety first!) We've got you covered; we love going above and beyond for all of our guests to ensure the perfect afternoon. And yes, we will literally roll out a red carpet for you; no autographs, please!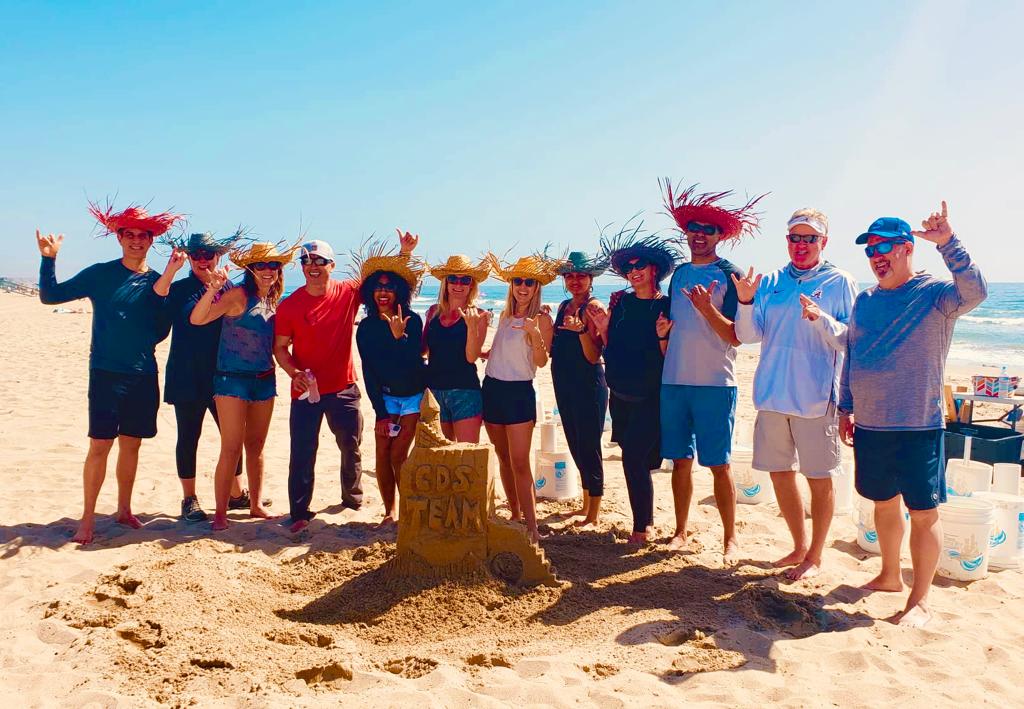 Life's a beach when you book with Bikes and Hikes LA – our team building events are second to none!
At Bikes and Hikes LA, we work diligently to create bespoke, unforgettable events for all of our guests from all over the world. We love designing one-of-a-kind outdoor events for you and your group, whether it's a major corporate event, a family reunion, or a special private tour for you and that special someone; bonus points if that special someone is YOU, treating yourself to a little TLC in SoCal. Our world-class concierge team will work with you to curate the perfect LA tour, activity, or team building experience for your group. All of our group tours and team building events are fully customizable, and we're so excited to help you start designing your dream day in LA. We offer dozens of custom group tour and team building activities, and all of our daily LA tours may be made private for groups and VIPs (aka you!) Check out all of our group tour and team building options, and get started by filling out our group tour planning form – we can't wait to work with you.
In conclusion- you need to book this group team building activity, and experience the most fun in the sun you've ever had. The Group Sand Castle Building Experience at Bikes and Hikes LA is always listed on the TOP RATED LA team building activities, and we can't wait to show you why. Grab your shovels and sand castle building tools, because all other team building events "pail" in comparison to this "bucket-list" activity. We hope you'll still book after that awful pun. See you at the beach!