STEP INTO THE SILVER SCREEN: CELEBRATE 100 YEARS OF THE HOLLYWOOD SIGN WITH BIKES AND HIKES LA'S UNFORGETTABLE HOLLYWOOD TOURS!
As the iconic Hollywood Sign reaches its historic centennial, there's no better time to embark on an unforgettable journey through the glitz and glamour of Tinseltown. Since its creation in 1923, the Hollywood Sign has stood as an emblem of the entertainment industry and a must-see landmark for visitors worldwide. Now, as we celebrate its hundred-year history, Bikes and Hikes LA Tours is delighted to invite you to join us in commemorating this momentous occasion with our captivating Hollywood tours.
Introduction: 100 Years of the Hollywood Sign – Celebrate with a Hollywood Tour from Bikes and Hikes LA Tours!
The history of the iconic Hollywood Sign dates back to 1923 when it was originally erected as a real estate advertisement. Originally spelling out "HOLLYWOODLAND," the sign was intended to promote a housing development in the Hollywood Hills. Standing at 50 feet tall and 30 feet wide, the sign quickly became a symbol of the burgeoning film industry in Los Angeles. Over the years, the sign underwent several renovations and repairs, including a complete reconstruction in 1978. The "LAND" portion was eventually removed in 1949, leaving the world-famous "HOLLYWOOD" we know today. The sign has been featured in numerous films, television shows, and music videos, cementing its status as an enduring cultural landmark.
To truly immerse themselves in the history and allure of the Hollywood Sign, find out more secrets and insider information about Tinseltown, guests should book Hollywood tours with Bikes and Hikes LA Tours. Our tours offer a unique and up-close perspective of this iconic landmark, allowing guests to experience the Hollywood Sign's grandeur like never before.
Why Choose Bikes and Hikes LA Tours to Celebrate the Hollywood Sign Centennial?
Bikes and Hikes LA Tours offers an array of exhilarating experiences that allow you to explore the captivating history and allure of the Hollywood Sign like no other Los Angeles tour company. You can celebrate the Hollywood Sign's centennial in style by booking any of our Hollywood tours below:
Hollywood Sign Hike: A Vivacious Trek to Iconic Heights
Our Hollywood Sign Hike promises a thrilling adventure as it takes you up behind the Hollywood Sign itself. This vivacious hike offers the closest possible viewpoint of the sign, providing spectacular 360-degree views of the surrounding Los Angeles sprawl. Marvel at the panoramic vistas that unfold before you, capturing the essence of this iconic landmark. Don't miss this opportunity to celebrate the Hollywood Sign Centennial with a truly spectacular Hollywood tour. Book your hike here.
Hollywood Sign Express Tour: Effortless Sightseeing Delight
For those with a busy schedule, our Hollywood Sign Express Tour is the ideal choice. In just 90 minutes, embark on a leisurely walk on a flat path that leads you directly below the Hollywood Sign. Capture the best possible photos of this legendary landmark, and then be ready to explore and sightsee in LA for the rest of the day. This is consistently rated one of the top Hollywood Tours in LA. Book your Hollywood Sign Express Tour here.
Hollywood Bike Tour: Up Close and Personal with Iconic Hollywood Sights
Our Hollywood Bike Tour takes you on an epic adventure, up close and personal with all of Hollywood's top sightseeing locations. As the only Los Angeles tour company that bikes you through the historic Hollywood Forever Cemetery, this bike tour offers a unique and memorable experience, taking you through the famous neighborhoods, film studios, and iconic spots in Tinseltown. Pedal your way through the bustling streets, experiencing the vibrant energy and iconic landmarks that define Hollywood. Celebrate the Hollywood Sign Centennial with a thrilling bike ride on one of the best Hollywood tours in LA. Book your bike tour here.
Griffith Observatory Tour: A Celestial Hollywood Hills Hike
Combine the allure of the Hollywood Sign with an insider tour of the Griffith Observatory on our Griffith Observatory Tour. This Hollywood Hills Hike is a celestial experience that allows you to explore scenic trails, marvel at the majestic Hollywood Sign, and gain fascinating insights into the stars above. Unveil the secrets of Griffith Park on this Hollywood tour while celebrating the Hollywood Sign Centennial. Book your Griffith Observatory Tour here.
LA in a Day Bike Tour: Discover the Best of LA
Our LA in a Day Bike Tour ensures you don't miss a single highlight of Los Angeles. Spend a full day exploring the city's best places by bike, from the glamour of Beverly Hills to the picturesque Venice Beach. This comprehensive Hollywood city tour offers a holistic experience of LA's diverse landscapes and vibrant culture. Celebrate the Hollywood Sign Centennial with a comprehensive city exploration on one of the best Hollywood tours. Book your LA in a Day Bike Tour here.
The Benefits of Choosing Bike Tours with Bikes and Hikes LA over Hollywood Bus Tours
When it comes to exploring the wonders of Hollywood, bike tours offer an unparalleled experience that traditional bus tours simply cannot match. Our Hollywood bike tours are designed to be sustainable, health-conscious, and personalized, allowing you to connect with the city on a deeper level. Unlike sitting on a bus, biking through Hollywood provides an intimate experience that lets you feel the vibrant energy of the city, smell the aromas of local cuisine, and interact with the surroundings in a more meaningful way. Bikes and Hikes LA offers the top Hollywood city tours and Hollywood tours that outshine any LA bus tour; book yours today!
Why Hollywood Tours at Bikes and Hikes LA Tours are the Best Los Angeles Tours 
At Bikes and Hikes LA, we pride ourselves on offering the best Hollywood tours with the most knowledgeable and passionate tour guides in the industry. Our team of local tour guides are experts in all things Hollywood, sharing fascinating stories and hidden gems that only insiders know. We prioritize your safety and well-being, providing health-conscious tours that allow you to explore the city while staying active and mindful of the environment. With our commitment to sustainable and responsible tourism, you can rest assured that your Hollywood tour with us contributes positively to the community and the places we visit.
A Milestone Celebration for Hollywood AND Disney
Coinciding with the Hollywood sign's Centennial anniversary, Disneyland is also commemorating a momentous occasion. This beloved theme park, known as the "Happiest Place on Earth," is celebrating its own milestone. Experience the magic on our Hollywood Sign Hike – take a gander at the spot where Walt Disney originally planned to build Disneyland!
Conclusion: Unleash the Magic of Hollywood with Bikes and Hikes LA Tours
As we celebrate the centennial of the Hollywood Sign, there's no better way to immerse yourself in its rich history and captivating allure than by booking Hollywood tours with Bikes and Hikes LA. With our sustainable, up-close, and personal experiences, you'll discover the magic of Tinseltown like never before. Join us in commemorating the history and charm of the Hollywood Sign as we embark on an extraordinary journey through the heart of Hollywood. Reserve your spot now and get ready for an adventure you'll cherish forever on our Hollywood city tours.
Book your Hollywood Tours today!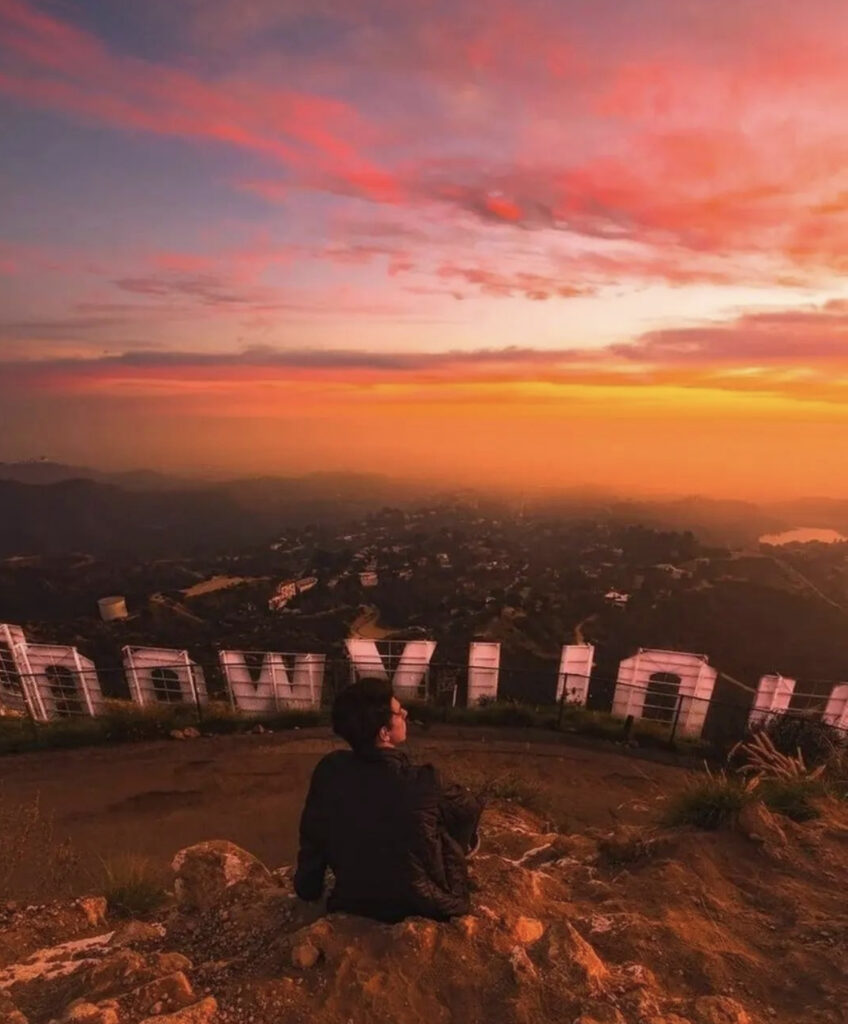 Frequently Asked Questions
Q: How long is the express tour of the Hollywood sign?
A: The express tour lasts approximately 90 minutes and is fully guided.
Q: How long is the full Hollywood sign hike?
A: The full Hollywood sign hike is about 4.5 miles round trip and includes a guided experience.
Q: What can I expect during the hike through the Hollywood Hills to the Griffith Observatory?
A: This hike offers stunning views of the Hollywood Hills and culminates in a visit to the renowned Griffith Observatory.
Q: What highlights can I expect during the bike tour of Hollywood?
A: The bike tour takes you through the vibrant streets of Hollywood, showcasing iconic landmarks and even visiting Hollywood Forever Cemetery.
Q: Why should I choose a bike tour over a bus tour of Hollywood?
A: Bike tours offer flexibility, an intimate experience, sustainability, and knowledgeable guides who ensure an engaging and personalized journey through Hollywood's wonders.